Now and then, we all have those crazy thoughts of our loved ones running into trouble. We'd love to learn how to put a GPS tracker on the phone to be able to tell exactly where they are at any point in time. And there's a good chance they too, would want someone to have their backs when they do run into some trouble.
People are now more open to sharing their location with others, according to this Statista report. If you've found yourself searching for how to put a tracking device on the phone to share location data with your loved ones, you've come to the right place. With this guide, you'll be able to track anyone you want, regardless if you want it done in secret or not, or whether or not you have deep pockets or a technical background.
We'll show you the current easiest ways that parents are currently using to keep tabs on their kid's whereabouts, lovers to ensure their partners aren't cheating behind their backs, and employers to identify and curb unruly workplace behavior.
How Can I Put a Tracker on a Phone?
So you know that the best way to keep track of someone's location is by tracking them through their phone. You've probably been hit by a flood of results when you were searching for ways to put a tracker on the phone, but you don't have the time or energy to go trying out each one to find the one that works best for you. We've got you covered.
There are two ways of putting a tracker on a phone – you do it either using a physical phone tracker or a software phone tracker. For physical trackers, Apple's AirTag is growing increasingly popular by the day. For software trackers, we now have more powerful, high-tech trackers that give you full access to everything you need to know about someone's location.
Hardware (Physical) Phone Trackers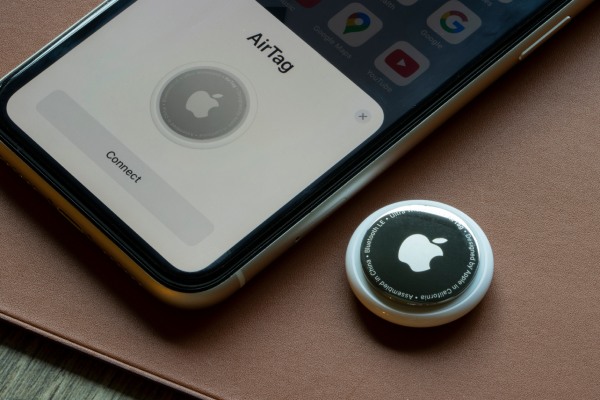 GPS trackers have grown tremendously in popularity and sophistication over the past decade. Now, they're sleeker, highly reliable, and ubiquitous. You can find them being put to use for many reasons, from tracking school children to monitoring hospital patients and tracking company fleets.
For your personal use, one of the best ways on how to put a tracker on your phone is using Apple's AirTag. It's a small piece of hardware that works by sending out secure Bluetooth signals to devices that have been linked to it via Apple's 'Find My' network. Since it's inconspicuous, you can easily attach it to your loved one's device, handbag, or any personal effect they have on them.
Note: One disadvantage, though, is that it's not suitable for stealth monitoring. Your loved ones will know that you're monitoring them and can turn it off at any moment to throw you off their scent.
Software (Technical) Phone Trackers
To access more location tracking capabilities, use a software phone tracking option. With a software tracker, your tracking options are unlimited.
This method revolves around installing and running a spy app on the target phone. It could be hidden or in the open – you don't need your target's permission to track them, and you can keep tabs on them for as long as necessary without leaving an ounce of evidence.
You can track them in real time or review their location history to find suspicious entries. There's essentially no limit to what you can do with this option. It all depends on the spy app you choose.
The only challenge you might have is with the pricing and the learning curve for the app. Some apps provide basic location tracking capabilities for free, while others charge a premium for in-depth location tracking. Some apps take just a couple of minutes to install, probably without access to the target phone. Others may require steep technical steps like rooting or jailbreaking.
3 Best Phone Tracker Apps Without Permission
Thinking of opting for a software tracker? Start with these three best apps to track a phone location:
mSpy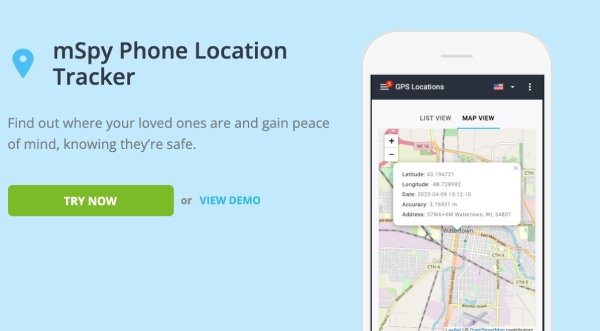 mSpy can help you run a steady, reliable location tracking campaign, whether you want to check on your kids at school or your employees during hours on the clock. mSpy will help you track anyone with an inch of accuracy. You can get their location updates by the minute or hour or by the end of the day you choose. You can track in stealth or the open – it takes just a click to switch between these modes.
The location data comes in a well-detailed map showing everything you need to know, from the street address to the geo-coordinates, time and date stamps, and a quick route to the location.
Another helpful geo-tracking feature for parents, employers, and partners is the geo-fencing feature. Simply lock your target in a 'geo-fenced' area, and you'll get alerted the moment they walk in or out of the area.
eyeZy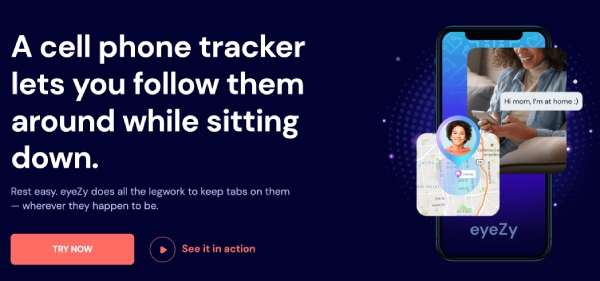 Another spy app that's powerful yet simple to use, eyeZy makes how to put a tracker on someone's phone a breezy process. The user interface is very intuitive – you can quickly spot what you're looking for at a glance. The map is well-labeled, so you can easily tell where your loved one is.
With the location tracker, you can follow your loved ones around everywhere they go, even when they're out of network coverage. What truly marks eyeZy apart from other spy apps is that it can track your target's location using a host of signals emanating from their phone, not just their mobile network signal. So, for instance, if they're out of network service, the app can still pick up on their location if they connect to a Wi-Fi network.
What's more, the app also helps you draw insights into your target's whereabouts. For instance, it can show you their most frequently-visited locations, how long they spent on average in each location, key details of any visited location, etc.
Mobipast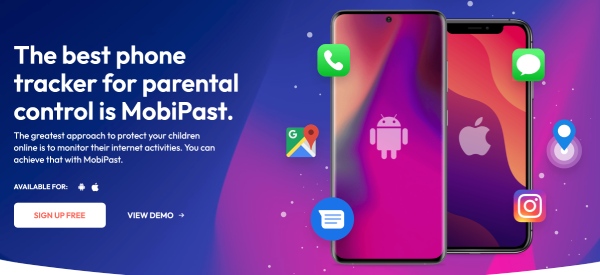 MobiPast is a parental control app designed to help parents rest easy over their kids' activities both online and offline. It tracks a host of phone activities, including your kids' location data. Like mSpy and eyeZy, it provides a hassle-free interface and provides a well-detailed report on your target's whereabouts.
The app's geo-fencing feature negates the need to check your phone constantly to keep tabs on your loved ones. You can set it up to get notified when they enter or exit any particular location.
To set up MobiPast, all it takes is a few minutes with your target's phone to execute the setup instructions on the phone. And that's it.
Besides their location, the app also lets you in a whole lot of other details about their activities. You can check their calls and texts to find out who they're meeting up with or use a remote screenshot to see what they're planning on doing.
How to Install a Tracker on a Phone?
The steps for how to put GPS on someone's phone are roughly similar across many different apps. For this example, we'll use mSpy.
Step 1. Purchase a Subscription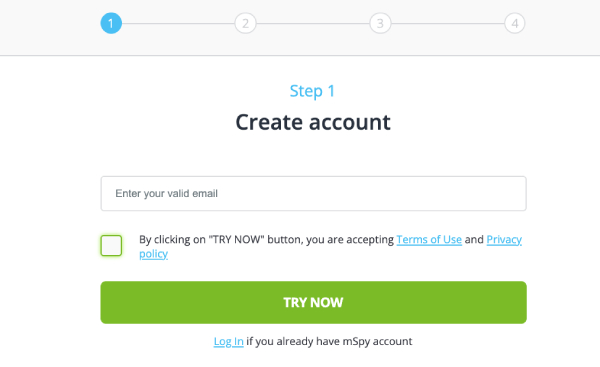 First, hop on mSpy's official website, and set up your user account. It'll only take a minute or two, and all you'll need is to provide your name and email address and then choose the type of phone tracking plan that best suits you.
Step 2. Receive an Email With Installation Instructions to Help You Get Started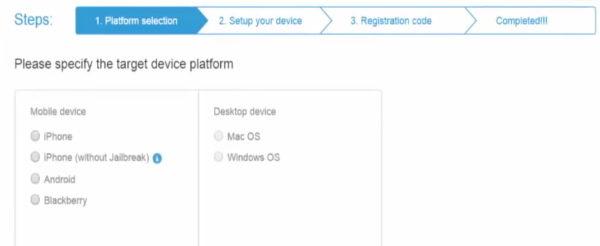 Check the email you used for the registration to confirm your subscription and get instructions on how to finish setting up the app. If you're tracking an Android phone, you'll need to find a good moment to grab the phone and run the installation instructions within a few minutes. iOS location tracking can be done completely remotely.
Step 3. View Phone Location and Other Data
You're now all set. Checking up on your target is now as easy as hopping your mSpy and clicking on the GPS tracker. If you've set up geofencing, you'll begin receiving alerts in real time as your loved ones move around.
How to Put a Tracker on a Phone for Free?
Don't sweat the price of a high-tech spy app. You can still track your target's location for free, though you'll have to make do with limited tracking options. All Android and iOS devices come with in-built capabilities for sharing the phone's location with another phone.
For Android phones, you can use Find My Phone or Google Maps. For iOS devices, the 'Find My' can provide you with a way on how to find a phone location reliably for free.
How to Put a Tracker on an iPhone?
With Apple's Find My app, you can track any iOS device for free, even when they're turned off. The service is designed to help phone owners find their missing phones, but you can use it to learn how to locate someone's phone.
Simply activate the Find My app on your target's phone, insert your Apple ID as the account to share the phone's location data with, and that's it. On your own Find My app, you can find a link that allows you to view your target's phone location on a map.
Important: You can't hide this from your target, unfortunately. So if you're wondering, 'how can I put a tracker on the phone in secret?' you might want to consider another alternative.
How to Put a Tracker on an Android Phone?
If you and your loved ones use Android phones, but you haven't used Google's Find My Device before, and you're still wondering 'how do you put a tracker on someone's phone?', you've probably been passing up a reliable phone tracker right under your nose.
What have you been missing out on? "Find My Device is an application and service developed by Google to remotely trace, locate and wipe Android devices such as smartphones, tablets, and smartwatches, as well as the Pixel Buds, according to Wikipedia" That means not just phone tracking capabilities but also remote control capabilities.
To track your loved ones using Find My Device, activate it through your target phone's settings, and grant your phone permission to view their phone's location by sending a request through your Google Map menu and accepting it on their phone.
Note: On the downside, you can't keep this a secret. Even if you manage to share their location with your phone without them knowing, they'll still find a location icon on their phone that is a dead giveaway.
FAQ
Can You Track Someone If They're Out of the Country?
Yes, spy apps can track a person anywhere on the planet, so long as they're receiving mobile signals, Wi-Fi signals, and other types of signals.
Can I View the Target Phone's Location History?
You can track your target's location both in real-time and historically. Your location tracking interface has a location log that can go back as far as you want – days, weeks, or months.
Is It Possible to Track a Cell Phone That's Turned Off?
Yes, high-tech spy apps like mSpy can track a phone even when it's turned off. They can track a dead phone in many ways, including by tracking clandestine signals that a dead phone can still emit or using a network of other phones within a given locality to pinpoint the phone's location. 
Conclusion 
You can now explore many ways on how to track someone's phone without a hassle. There are many reliable free and paid methods, as mentioned above.
The question now is, which one do you think will help make for successful monitoring?