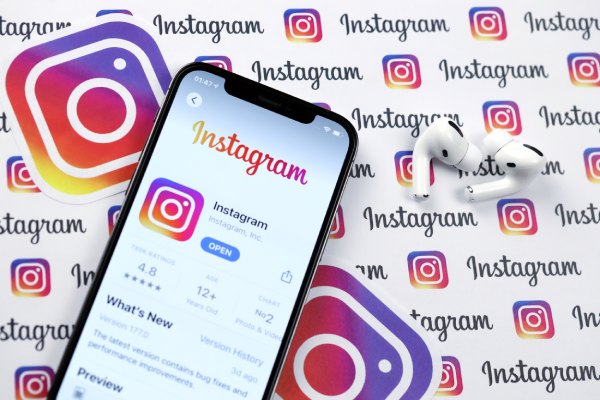 Instagrammers are some of the most passionate social media users on the planet. Instagram has its way of turning up the creative energies of users with a media-centric set of features that allows users to share multimedia files easily. But while users are always busy posting away about their latest craze during the day, something often keeps them up late at night, which concerns the safety of their personal data and media files on Instagram. According to Statista, Instagram is one of the top three platforms that draw concerns among users over the possibility of losing personal data to hackers.
In spite of high-level security features like 2-factor authentication and end-to-end encryption, the number of Instagram users getting hit by scammers and hackers continues to grow by the day. If you've recently seen signs suggesting your account may have been hacked, you're not alone. This guide will provide plenty of clues to help you figure out what's going on.
First, we'll discuss some of the most common techniques criminals use to hack an Instagram private account in 2023 and ways to protect yourself against them. And in case you run into a legitimate need to track another Instagram account, we've got you covered on how to hack an Instagram account in 2023.
How Do Hackers Hack Instagram Accounts Today?
These days, it seems a secure Instagram password is no longer enough to protect your Instagram account from hackers. Social media crimes are growing at an alarming rate, with crime proceeds now topping $3 billion annually. In the U.S., social media scams more than doubled between 2020 and 2021.
To protect yourself, you need to have at least a basic knowledge of how cybercriminals are hacking Instagram profiles.
Here's a quick overview of some of the most common Instagram hacking scams in 2023 and how to avoid them:
📲 Hack Instagram Account With a Spy App
It's no surprise that spy apps are growing in popularity at the same time when social media crimes are at an all-time high. Spy apps have been a priceless tool for parents to groom and protect their kids. But in the wrong hands, they can use a tool to hack an Instagram account online in 2023 and gain unauthorized access to other people's data.
With spy apps, criminals can hack into any social media platform, including Instagram. All that's needed is for someone to have just a few minutes with your phone to set up the spy app. If they know the Apple credentials to your iPhone, they can do everything remotely without ever touching your phone.
Once it's set up, Instagram password hack apps 2023 can access just about every data on the target's phone. The hacker can then see your Instagram credentials as well as your call logs, texts, browsing activities, Instant Messages, and location data.
❗️How to Protect Yourself from Spy Apps?
Most Instagram hacker apps often leave behind significant clues on the target's phone. Except the hacker is willing to invest in a highly sophisticated spy app, chances are they'll use cheaper apps that'll leave clues.
● Check for suspiciously-named app files on your phone. Go to your app drawer and search for files with names beginning or ending with words like 'tracker,' 'location data,' 'spy,' etc.
● Watch out for any noticeable increase in your battery consumption rate. If you have to charge your phone more often these days, perhaps a spy app might be the culprit behind it.
● If you've found any of these suspicious signs, use an antivirus scanner to find and remove all suspicious files from your phone.
📲 Hack Instagram Account Using Software Tools
This is also another popular method for how to hack Instagram accounts from android and many other devices. But unlike spy apps, it's popular not because of its potential for social media tracking but because it doesn't cost much. In fact, you can use it to learn how to hack Instagram id without paying money – so long as you have enough time at hand to wait around.
Basically, it revolves around setting up a brute force password hacker, a hack Instagram account software that tests password combinations endlessly until it finds the right combination. To hack an Instagram account, the hacker simply uploads a .txt document with frequently used password combinations on the software. Hackers often get their password lists from black markets or other illicit sources, oftentimes with millions of frequently used password combinations.
There are no guarantees, but the Instagram password hacker could crack a code after countless itineraries. The software is usually designed to spoof the user's IP address, so the user can make countless login attempts without leaving any trace that would lead back to them.
❗️How to Protect Yourself from Software Tools?
The best defense against this hacking technique is a strong password. Try changing your password to the strongest possible combination. For strong password suggestions, use a password generator and set it to a high level of complexity.
📲 Phishing Method
This method works for free and in stealth, and hackers use them a lot of times. With this, hackers can hack an Insta password using a deep fake replica of Instagram's login page. Victim keys in their Instagram login credentials thinking they're logging into the real Instagram platform, not knowing they're directly delivering their credentials into the hands of a scammer.
In fact, it can be quite easy, depending on how gullible the victim is. Hackers usually rate this as the easiest hacking technique for getting Instagram passwords. There are even lots of phishing apps these days that anyone can use to learn how to hack an Instagram account with HTML code and URLs. This software can generate phishing sites that are the perfect clone of the original site and take victims straight to their Instagram profile once they log in. It works just like the original login page, with nothing out of the ordinary.
To boot, once they have your Instagram password, they can easily extend their reach to your other social media accounts – Facebook, Twitter, WhatsApp, etc.
❗️How to Protect Yourself from Phishing?
You'll find phishing site links mostly embedded in emails and text messages promoting a product or service. You might be asked to like or follow a page on Instagram, which would require you to log into your Instagram account through the provided link. Don't feel under any pressure to check out any link sent to you via email or text, especially if it isn't from a trusted source.
Also, whenever you click a link leading to an Instagram login page, always check the URL to ensure that it's the official Instagram site.
📲 Using Saved Passwords Storage
All phones have a feature for saving passwords and automatically refilling them when needed. While this is designed to enhance your convenience, it could also put your personal data at greater risk of being stolen.
Many phones these days come with default security features for protecting your saved password, but there are truly no guarantees. If someone gets a hold of your phone, they can bypass any security measure and access your saved passwords. For instance, if your saved passwords are protected by your phone code, anyone who has access to your phone codes can access all your passwords.
❗️How to Protect Yourself?
One common reason people fall victim to this method of hacking is that they don't take the time to set up security for their saved passwords. In many cases, the password-saving feature is activated by default on the phone, so it just starts saving your passwords before you know it. If you like the convenience of the feature and still want to leave it on without security risks, then take time out to secure your saved passwords. Use multiple layers of security, if possible. For instance, you can set up face recognition together with a pattern lock or touch lock.
📲 Messages With False Copyright Infringement
Ever get a message warning you that you've broken one of Instagram's rules? If you post regularly sharing content you saw elsewhere, you'll most likely have gotten a warning message that you've posted copyrighted content without proper attribution. If you've clicked on the login link in one of those messages before, chances are you may have fallen for this trick. Hackers now often send out fake copyright infringement emails to people hoping they click on the fake login link trying to log in to address the false flag. They can even throw legitimate Instagram links into the mix, like those to FAQ pages, to boost their credibility. On seeing the legit links, people often buy the fake login page, failing to spot the slight difference in the login URL.
❗️How to Protect Yourself from False Copyright Infringement?
A few clues can help you tell between a fake copyright infringement email and the real one. First, urgent Instagram notifications usually pop up directly on your Instagram dashboard when you're already logged in. Hackers may also try to trick you with a dm notification. Don't be taken in.
Also, before you receive any email about any major issues, you must have already been notified on your dashboard. So if you can't find the notification on your dashboard, ignore the email; a scammer is probably baiting you.
📲 Deceptive Offers of Verified Badges
Another type of Instagram notification that hackers often clone to mislead users is those of notified verified badges. You probably already have a verification badge or two on your Instagram account and are probably eyeing a few more to decorate your account. Be careful with what badges you fancy, a scam might be afoot. The verification bar offer might seem very legit at first glance, but look closer, and you might find the markings of a scammer behind it. They could lead to deceptive websites set up for no reason other than to collect your Instagram credentials.
Reports even have it that victims are often asked not to change their Instagram username or password within 24 – 48 hours to allow the badge to be properly uploaded to their account. In reality, the hackers are just asking for enough time to log into their accounts and execute their hideous plans.
❗️How to Protect Yourself from Verified Badges?
To help protect users against this scam, Instagram is now allowing users to apply for a blue badge directly through their profile page. You don't need to follow a link in any notification email. Besides this, you should also do your due diligence when taking up verification badge offers. Always check to ensure that it's coming from a verified Instagram account. Instagram verification isn't something that hackers can pull off easily. Hence it's a good line of defense for you. Also, look beyond the 'Instagram' in the account name and find other clues indicating that it's an official account. If you can't find any, then stay away from the offer.
📲 Deceitful Giveaways and Brand Sponsorships
Hackers can also disguise their fake login links in emails offering sponsorship deals and giveaways. With the barrage of offers flooding users every day, it can be quite tricky to spot this one. Hackers often pose as legitimate brands with legitimate offers. They probably have access to original copies of these official offers. Everything looks legitimate in the copies they send you, except for the fake login links.
Sometimes, the hackers might dare it and attempt a full account takeover, which would require more personal details than usernames and passwords. They'd send you some survey of sorts, asking for those personal details – answers to security questions like your mother's maiden name, your street address, etc.
❗️How to Protect Yourself from Deceitful Giveaways and Brand Sponsorships?
Just like the two hacking techniques above, this technique relies on the user's naivety. Don't ever feel pressured to accept an offer because you want it so badly.
Always check where the offer is coming from. Make sure it's a verified account, and if they claim to be an Instagram rep, they should have more proof to back them up. Look for more information about the company anywhere on the web. Search for them on Google, Facebook, etc. Call their offices to double-check the offer with an official representative.
Best 6 Instagram Hacking Apps
Sometimes, you might find yourself on the other end of the equation, in a situation where you need to learn how to hack an Instagram password. There are several legitimate reasons why someone would want to hack an Instagram account, and there are many simple yet reliable tools and techniques that can come in handy when the need arises.
Perhaps you used a randomly generated password for your Instagram and forgot where you stored it. Or maybe you've lost a phone you were using for your Instagram and don't have the password to run it on another device.
Or maybe you're a protective parent or a smart partner who wants to stay in the know of what your loved ones are doing on Instagram.
Here are the most reliable spy apps that can make the job quite easy.
mSpy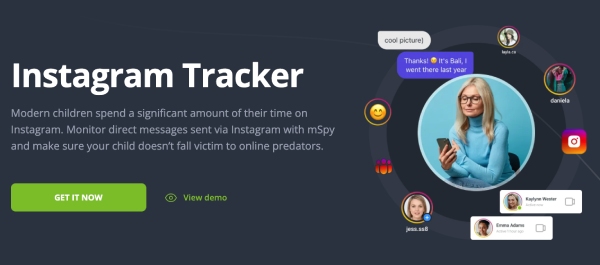 If you need a no-frills, plug-and-play spy app that gets you up and going with your Instagram tracking campaign in a breeze, then mSpy is the app you'd want to try. mSpy provides the same simple, instantaneous tracking capabilities to anyone who has a legitimate reason to track someone's Instagram, regardless of where they are in the world or their prior experience with spy apps.
All you need is a brief moment with the target phone (if it's an Android phone) to execute a few quick setup instructions. For iOS devices, you might not even need physical access to the phone, their iCloud credentials might be enough, so long as they upload their Instagram data on their iCloud backup.
Once you have this Instagram account hacker android set up, you have the account entirely in the palm of your hands. If you've lost your password, you can view it now or change it. If you're tracking a loved one, you can see everything they do on the platform, from their private chats to group chats, profile updates, and friends list.
Pros
● Instant access to all shared media files, whether they're uploaded or viewed by the account holder.
● View complete data in every category – messages come with time and date stamps, contacts list with complete contact details, etc.
● Completely stealth operations.
● Extends control to other social media accounts belonging to the target, from their Facebook to their Twitter, WhatsApp, etc.
Cons
● Requires rooting on Android for unlimited access to Instagram data.
eyeZy
eyeZy also keeps things simple yet highly effective. It gives you a solid alternative for hacking an Instagram account without raising any alarms or exposing the account to serious security risks.
With eyeZy, you can monitor an Instagram account both in real-time and passively. You can get as much information as you want to stay in the loop of your target's Instagram activities.
Similar to mSpy, once you have eyeZy set up, you'll have your target's Instagram data properly organized and presented on your dashboard. You can see all their conversations and shared files.
What's more, eyeZy can combine their Instagram data with data from other social media activities to paint a fuller picture of what they're doing or planning on doing.
Pros
● A sleek, user-friendly interface.
● Track Instagram accounts in real time.
● Multiple options for accessing an Instagram account – remote screenshots, a keylogger, the Instagram tracker, etc
● Round-the-clock support.
Cons
● It doesn't have an Instagram hacker app for iPhone.
MobiPast
Mobipast is a parental control app that's designed to give parents hands-on control over their kid's Instagram. With Mobipast, you won't lose sleep over what your kids are doing on Instagram. Simply hop on your dashboard, even in the middle of the night, and you can see everything they're doing on Instagram. Mobipast combines simplicity, stealth tracking, unlimited access to data, and parental control, giving you full control over your target's Instagram activities.
If you want, you can receive instant notifications of your target's activities on your phone. For instance, you can get alerts for all their incoming or outgoing messages. You can even check out what their contacts are up to to find out the kind of friends they keep.
What's more, Mobipast gives you access to a host of other phone data, from calls to texts, emails, browsing activities, plus lots more.
Pros
● Parental control features allow you to block suspicious contacts and end suspicious conversations on Instagram.
● Lots of features available on a simple user interface.
● Tracks location data, email, and browsing activities.
Cons
● Lacks many advanced features for hacking into Instagram compared to mSpy and eyeZy.
● Requires rooting to activate parental control.
Glassagram
Unlike the other Instagram hacking apps in this review, Glassagram is designed specifically for Instagram tracking. Although this limits your tracking options compared to the other apps, it kind of makes things easier. When you hop on your dashboard, you go directly to your target's Instagram activities without having to click on too much. Plus, you won't ever need to get a hold of your target's phone physically because everything can be done remotely. This further eliminates any possibility of getting caught, and the app can collect any information you want from an account without ever leaving the slightest trace.
The information comes in a complete package, with all the necessary details – sent or received messages showing the time and date stamps and the contact details of the sender and receiver, Instagram stories with all the comments, and shared media files.
Plus, support is available 24/7 in case you need to talk to someone about any challenge with the app.
Pros
● Track all your target's Instagram data anonymously.
● Quick installation and a straightforward interface.
● Get updated every 5 minutes or live as it's happening.
● Complete access to all your target's Instagram data
Cons
Lacks trackers for other social media activities and phone activities.
Pumpic
Another reliable parental control app that allows parents to track their kids on Instagram, Pumpic allows you to view or block Instagram activities on your target phone. You can see your kid's chats, friend list, and a host of other data, and you can decide what your kids can or can't do on the platform.
Pros
● Tracks Instagram activities as well as a host of other phone data.
● Works on all Android and iOS devices, including the oldest models.
● Parental control works not only for Instagram activities but for other app and phone activities.
Cons
● The interface might give you a little hard time the first time out.
Thegramhack
Another Instagram hack tool designed specifically for the platform, Thegramhack, has quickly made a name for itself not too long after its release. It's already helped many parents and partners save their loved ones from harmful engagements on Instagram.
All it takes to track your loved one using this Instagram hacking website is just entering their username, and that's it. Although you won't be hacking directly into their account (with the ability to change their account information or delete any data on their account), you can still get to find out a whole lot about your target using Thegramhack.
Pros
● Quick set up – run the Thegramhack on your browser and enter your target's user name
● View media files, texts, and other shared data
● View friend list and complete details of each contact
● Anonymous and untraceable tracking
Cons
● Doesn't provide unlimited access to Instagram data
Instapass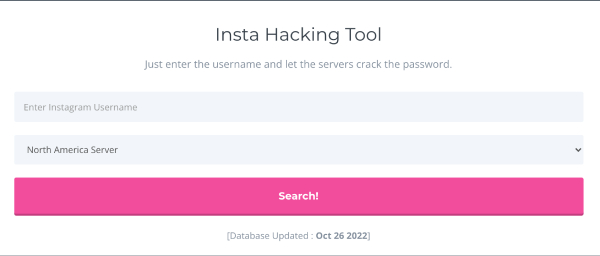 Instapass is an Instagram hacker free spy app that's worth checking out. Although it's not all that popular and there aren't that many reviews on it, Instapass could provide a quick, handy tool for getting any information about someone's Instagram activities.
Pros
● Quick setup and simple interface
● Track Instagram for free
Cons
● Lacks many advanced features offered by the other apps
How Do Hackers Use Data from Instagram After Hacking an Account?
Hackers hack Instagram accounts for many reasons. If your account has been hacked, here are some of the possible scenarios:
Demand for Ransom. You'll be asked to pay a ransom to get your account back.
Blackmail. They could threaten to release some sensitive personal files, like your nudes, etc., if you don't pay up their ransom.
Hideous Requests. They could also ask you to do things like take nude photos.
Selling our account. They can sell your account details to the highest bidder on the dark web.
Complete takeover. They can essentially take over your account, changing your login details and using the account probably for their other fraudulent activities.
How to Recover Hacked Instagram Account 2023?
Once you realize that your account has been hacked, you need to take action immediately to prevent any further harm from being done. Here's what you should do:
● Change Password
Ideally, use a random password from a password generator and make sure it's strong enough with plenty of characters, numbers, and symbols.
● Verify Your Identity
If your account has been hijacked by someone else, you can reclaim it by verifying your identity. When you opt to verify your account, Instagram will put your account temporarily on hold until the verification process is completed. Instagram will ask for as many personal details as possible, including your address, phone number, and even a selfie video. The hacker won't be able to provide this. Hence, they'll lose access to the account.
● Enable Two-Factor Authentication
If you can still log into your account after it has been hacked, 2-factor authentication can help you prevent any further unauthorized access. The 2fa setup sends a one-time code to your second means of authentication – your phone number or email. Hackers won't have access to this second verification means, so they'll most likely be locked out for good.
FAQ
How Can I Read Someone's Instagram Messages?
Spy apps are the most reliable way to track someone on Instagram for newbies without a tech background. Spy apps take just minutes to set up and can give you unrestricted access to all your target's Instagram activities.
How to Log in Into Someone's Instagram Without Them Being Notified?
Some spy apps allow for total stealth operations. Rather than log in directly to their Instagram, which would trigger a login notification on their phone, a spy app accesses their Instagram data through their local phone storage or iCloud storage, where backup copies of their Instagram data are kept. As such, you can access all their Instagram data anytime, anywhere, without ever raising suspicion.
Can I See Someone's Location with an Instagram Monitoring App?
Most Instagram spy apps come with many other tracking capabilities, including those for monitoring your target's location.
Conclusion
With Instagram spy apps, you can gain the insights you need to draw sound conclusions about your target's activities. You'll be able to quickly learn how to hack someone's Instagram to gain instant access to their chats, friends list, shared files, etc. Instagram spy apps also provide access to many other types of phone data, including calls, SMS, browser data, and location data.
And if you think your account might have been hacked recently, we've highlighted some of the most prevalent ways that hackers operate these days and how to protect yourself from them.